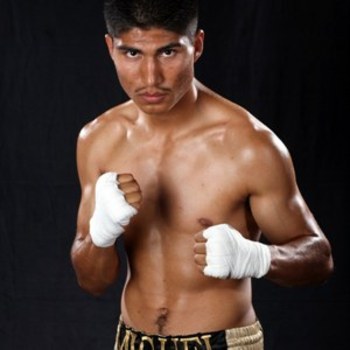 MIKEY GARCIA TITLE SHOT COULD COME SOON
By: Boxing Writer Frank Rivera
Miguel "Mikey" Garcia (27-0, 23 KO's) is a young and talented boxer that is quickly rising through the ranks of the Featherweight division.  Mikey Garcia comes from a boxing family that has their roots imbedded in the sport of boxing. Mikey's father, Eduardo Garcia is a trainer along with his older brothers Danny Garcia and Roberto Garcia who are also former fighters and World Champions.
Mikey Garcia is trained by his father Eduardo Garcia, who has trained former two-time World Champion and youngest Light Middleweight Champion Fernando Vargas, former NABF, IBF Super Featherweight Champion Roberto Garcia (son), and former WIBA and WIBF Lightweight Champion Mia St. John. Eduardo Garcia has a plenty of experience training fighters and knows what it takes to a make a World Champion, that is exactly what he is trying to accomplish with his son, Miguel "Mike" Garcia.
It appears that promoter Bob Arum is planning on giving Miguel "Mikey" Garcia a shot at the title, if he is able to win on March 10, 2012 in Puerto Rico. Arum is planning on adding Garcia onto the title card of  WBO Featherweight Champion Orlando Salido and Juan Manuel Lopez II. If Garcia is victorious on March 10th, he will face the winner of Salido vs Lopez II later in the year for the WBO Featherweight Title.
If what Arum says is true and Garcia is able to beat his next opponent (not yet mentioned), this will be Garcia's toughest fight in his young career. A victory over either Salido or Lopez, will catapult Garcia into the next level of young rising stars and open many doors. But before we get ahead of ourselves, Mikey Garcia needs to beat whoever Arum places in front of him come March 10th.
Feel Free to comment and share your opinion on the article on the SOCIAL NETWORK COMMENT SECTION BELOW.
FOLLOW FRANK RIVERA ON https://twitter.com/#!/REALCOMBATMEDIA
YOU CAN ALSO FOLLOW REAL COMBAT MEDIA FACEBOOK "https://www.facebook.com/pages/Real-Combat-MediaCOM/251348441588513
COMMENTS
COMMENTS