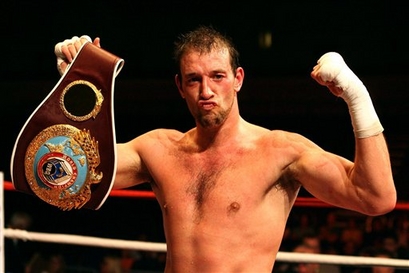 British Cruiserweight Division divided as Maccarinelli vacates the title
By: Peter Mann; RCM UK Boxing and Freelance Sports Writer
This past week has seen the British Cruiserweight division come to a head when the British champion himself, Welshman Enzo Maccarinelli (32-5, 27KO's), vacated the title which he won courtesy of a UD12 in his last bout with Shane McPhilbin and announced that he would be dropping into the Light Heavyweight division. Reason there comes in that winning the British title thrust Maccarinelli into the limelight and now vacating provides an opportunity he has craved for, a bout with fellow countryman and British Light Heavyweight champion, Nathan Cleverly.
From this decision a number of possibilities have emerged and contenders arriving in the shape of McPhilbin (who lost to Maccarinelli), Dickinson, Askin and the returning Herbie Hide; as well as outside chances for the like of Dolan, Conquest and a number of others. The most likely and obvious option will be between Shane McPhilbin and Jon-Lewis Dickinson as all awaits the decision from the boxing board before a final decision is made.
Several of the main contenders spoke to Real Combat Media regarding the whole situation and UK Boxing Writer, Peter Mann, caught up with that of Dickinson, Askin, and outsider Dolan, getting their thoughts on Maccarinelli's surprise decision to vacate the title, their thoughts on the cruiserweight division as a whole, the potential of a McPhilbin-Dickinson bout, the surprise possibility of Hide as a contender, and as is the case with both Askin and Dolan, their thoughts on their defeats to Dickinson and his chances of glory.
With the main challenger for the title, Birtley-based Jon-Lewis Dickinson (11-2, 3KO's) it is the potential reintroduction of Herbie Hide that has him irate, and understandably so.  Although Hide has the history of great fights behind him, that's where they should be and Dickinson spoke rather frostily when he imitated that "he (Hide) fought once in the prizefighter series back in 2010 (which Dickinson won) and hasn't been in the ring since and I'll be disgusted if he gets that shot. He doesn't warrant it and hasn't done anything since then."
Dickinson himself has worked his way through the Cruiserweight ranks since winning the prizefighter and has had recent successes over David Dolan, Chris Burton and Matty Askin, the former and latter going the full distance. And, although it will be Dickinson that gets the chance at British glory the Hide situation caused Dickinson to add that "I will probably be ashamed of the sport if it does happen."
The Cruiserweight division though has been a quiet one in all honesty of late, but this recent news-burst, and the challengers present had the formerly unbeaten Askin (13-1, 9KO's), who lost to Dickinson in his last outing, stating "it's beginning to hot up quite nice and although it's never really been the nicest division it does have a few good fighters included."
With the Cruiserweight division hotting up all three fighters would like their chance at claiming the now, much-sought after belt. The rank outsider, Sunderland's David Dolan (15-4-1, 5 KO's) stated that although he didn't see the original bout between McPhilbin and Maccarinelli, with the rematch supposed to be last week before the champion withdrew with injury, he did add that "it really seems to be the wrong challengers fighting for it. On paper Dickinson deserves his shot. I would like a shot myself, especially as a few decisions have gone against me in recent bouts.
"It's fair enough that others get their shot and if Dickinson does win then hopefully I will get a rematch with him."
Blackpool's Matty Askin was similar in his thoughts as well and he added that "Dickinson fought the perfect fight against me in what was one of the best fights the Cruiserweight division has seen. McPhilbin though is easier to hit than me but everyone is now shouting their mouths off.
"I will fight either of the challengers, including a rematch with Dickinson. He has fought a lot longer than me and I would rather have lost now than in a bigger title fight."
Dickinson though was more placated regarding the situation developing ahead of him. "I want to win the British title, I've said that all along and I will face whoever I have to in order to take that title," he said.
"It's more a case now of who deserves a shot other than me. I should have had the shot after I'd faced Dolan but there was a situation concerning Rob Norton, Leon Williams and myself and the television providers that quashed it.
"Me and Askin are the main contenders and are both the best in the division right now. The English Cruiserweight bout (won by Dickinson) could easily have been a British one instead."
Then there is outsider, and Dickinson's regional rival, Dolan who also added himself to the mixture in that "I'd love to get another chance at the British title as it's not really busy enough," imitating towards earlier comments made by Askin. "But if Dickinson does win then I hope he keeps the title busy and that I get not only a shot myself but a rematch."
That latter point, regarding a potential rematch between David Dolan and Jon-Lewis Dickinson would be something of immense magnitude to the north-east of England, more so as there has never been a title bout between two fighters in the north-east region. This could be it.
The British Cruiserweight division is seemingly ready to put themselves back on boxing's ever-growing map of talent.

FACEBOOK
RealCombatMediaCOM
Follow Real Combat Media Boxing on TWITTER
@REALCOMBATMEDIA
Add us to your circle on GOOGLE PLUS Real Combat Media.
ENJOY & SUBSCRIBE TO OUR EXCLUSIVE FIGHTER INTERVIEWS ON
REAL COMBAT MEDIA YOU TUBE
JOIN OUR BOXING & MMA DISCUSSION FORUMS : REAL COMBAT MEDIA FORUMS
COMMENTS
COMMENTS