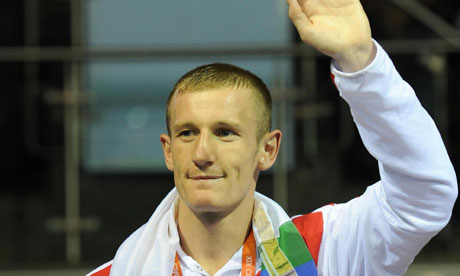 INTERVIEW WITH GREAT BRITAINS OLYMPIC BOXING CAPTAIN TOM STALKER.
By U.K. Boxing Writer ROBERT MASSEY
Tom was born on the 30th of June 1984 making him the oldest member of the squad and hales from Liverpool, Merseyside. He's one of Britain's best gold medal hopes at this year's Olympic Games and is ranked No1 in the newly published world rankings at his weight.  He will be fighting at Light Welterweight (140)  64kgs but has international honours at both Lightweight and Light Welterweight. His international honors are Bronze in 2011 Baku at the World Championships, Silver in 2011 Ankara in the European Amateur championships they were both won at Light Welterweight.
Earlier honors at Lightweight 60kgs are Gold 2008 Poland, Silver 2009 Denmark in the European Union Amateur Boxing Championships and Silver in Moscow 2010 in the European Amateur Championships.  His greatest honor is probably the Gold medal he won at the Commonwealth games in Delhi 2010. Toms is a inspiration to young people everywhere and a great example of how boxing can change people's live around as he has gone from stealing cars to captain of the Great Britain Olympic team. I believe that this probably means more than all the medals put together and proves boxing is an excellent vocation for young people to take up and do something with their lives.
Tom Stalker" />
Real Combat Media U.K. Boxing Writer Robert Massey interview with Great Britain's Olympic Boxing Captain  Tom Stalker:
RCM: "I know you started boxing late did you ever think you would be fighting for your country at the Olympics'?"
TS: "It was always a dream since watching Amir Kahn in 2004 Olympics, but if I was honest no didn't think I'd ever make it."
RCM: "As captain of team G.B's boxing team, have the team discussed what the team goal is for 2012?"
TS: "No there isn't a set goal but as fighters we all dream of gold. I can see the team doing really well."
RCM: "Which country would you rate as your biggest rivals?"
TS: "Our 3 main threats are Brazil Ukraine and Cuba."
RCM: "How as it been to train under a world class coach like Rob McCracken day in day out?"
TS: "Since rob took over been a breath of fresh air, best I've worked with."
RCM: "The sparring you're getting in Sheffield is world class how much does it help the team sparring pros like Froch, Bellew and Barker?"
TS: "I don't spar them cos there heavier but being around the likes of Bellew Froch an Barker brings me on as a fighter, Learning all the time."
RCM: "Out of all the class fighters you have on the team which one would you pick to be British boxing's next big thing?"
TS: "There's too many to be honest but Antony Joshua is gonna be heavyweight champ for sure, I can see something special in him. Luke Campbell is unreal can't see no one beating him in London,(tactician) and then there's Andrew Selby the most entertaining I've ever see, could name many more."
RCM: "Other than the boxing will you be trying to catch any of the other Olympic sports whilst in London?"
TS: "No I'll just be in the zone trying to win the gold medal."
RCM: "When away from boxing what do you enjoy doing to relax and unwind?"
TS: "I like a night out a few drinks and a dance. Spending time with my girlfriend and daughter going the pics and for meals."
RCM: "Final question who do you go for Pacman or Mayweather?"
TS: "Mayweather all day he's is boxing greatest"
I personally would like to thank Tom for taking time out of his busy schedule to answer a few questions for our readers and I'm sure I speak for everyone a Real Combat Media in wishing Tom and all other members of Team GB all the best for the upcoming games.
I personally hope to see them Gold medals around everyone's neck.
Feel Free to comment and share your opinion on the article on the SOCIAL NETWORK COMMENT SECTION BELOW.
FOLLOW ROBERT MASSEY ON TWITTER @REALCOMBATMEDIA
YOU CAN ALSO FOLLOW REAL COMBAT MEDIA FACEBOOK AT Real Combat Media.COM
COMMENTS
COMMENTS