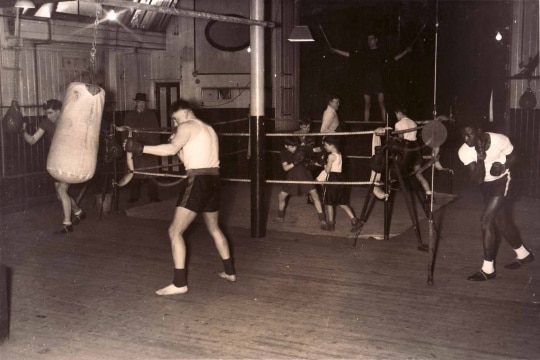 Young Fighters To Look Out For In 2012 – Part 3
By: Frank Rivera
These next five fighters are still fairly unknown to certain boxing fans, while others might know who they are. The ones you might know, might still have some questions to answer. Let's take a look at the next sets of fighters.
1. Tony Luis (13-0, 5):
Tony Luis
is a 24 year old
Canadian
that fights out of Cornwall, Ontario in the 
Light Welterweight
 Division.  Tony is trained and managed by his father Jorge Luis, the pair so far seem to have some success as they have been able to win the Quebec Lightweight Title in June 6, 2009 against Jorge Banos in Montreal Casino, Montreal, Quebec,
Canada
.
Tony Luis.jpg" /> A year later, Tony was featured on
ESPN
Friday Night Fights, where Luis was able to stop veteran Adrian Valdez. On October 1, 2011, Luis captured the WBC Continental America's Lightweight title with a spectacular first round knockout over longtime contender Alejandro Barrera and yes, he is related to Marco Antonio Barrera.
2. Ismayl Sillakh (17-0, 14 KO's):
Ismayl
"The Black Russian"
Sillakh
 is a 26 year old
Ukrainian
that fights out Simi Valley, California in the Light Heavyweight Division. Ismayl has an impressive amateur record of 302 win and 16 losses and also wining many medals from2000 to 2008.
Ismayl Sillakh2.jpg" width="180" height="270" />
2000  Silver Medalist European Cadet Championships
2001  Gold Medalist European Cadet Championships
2001  Gold Medalist World Cadet Championships
2002  Silver Medalist Presidents Cup
2002  Gold Medalist Balaton Cup
2003  Gold Medalist Battle of Stalingard Junior Tournament
2003  Gold Medalist Black Sea Cup
2004  Silver Medalist 4 Nations Friendship Tournament
2004  Gold Medalist Tammer Tournament
2004  Gold Medalist Ukrainian National Championships
2005  Gold Medalist Norway Box Cup
2005  Gold Medalist Ukrainian National Championships
2005  Silver Medalist World Championships
2006  Gold Medalist in Ahmet Comert Tournament
2006  Silver Medalist European Championships
2007  Gold Medalist Klichko Brothers Tournament
2007  Silver Medalist Ahmet Comert Tournament
2007  Gold Medalist in Makar Mazay Memorial
2008  Gold Medalist European Olympic Qualifications
Koki Kameda
is a 25 year old
Japanese
fighter and current WBA World Bantamweight Champion. Kameda is a very popular in
Japan
and the other Asian countries, those that know of
Koki Kameda
knows the type of a fighter that he is. Koki has been described as overly confident arrogant and cocky some consider him to be the
Floyd Mayweather Jr.
and
David Haye
of
Japan
who brings in massive TV ratings at home home.
Kameda has held regional, minor and major titles for the WBA Inter-Continental Flyweight Title in 2008 and the OPBF  Flyweight Title in 2005. His major title that he has won include the WBA World Light Flyweight Title, WBC Flyweight Title and the WBA World Bantamweight Title.   Kameda is a talented southpaw with fast hands, footwork but despite his record he's really not a power puncher, especially not at Bantamweight Division. He is exciting to watch if you ever get a chance to catch one of his fights.
4. Gary Russell Jr. (19-0, 11 KO's):
Gary Russell Jr.
is a 23 year old super featherweight southpaw from Washington, D.C. who fights out of Capitol Heights, Maryland. Gary is a special kind of young fighter that comes around every once in while. When you watch one of his fights, you can see the potential he possess to become a World Champion.   At age 16, Garry won both the U.S. Championships and the National Golden Gloves in 2005. He is one of two boxers that have won both the U.S. Championships and the National Golden Gloves before his 17th birthday. Carry has a very good amateur record of 163-10, wining the 2005 World Amateur
Boxing
Championships and was named the 2005 USA
Boxing
Athlete of the Year.
Gary Russell Jr.
has impressed many with his style of fighting,  his hand speed, quick feet, power and good defense that keeps his opponents guessing . Russell has also shown to have constant issue with hand injuries that has plagued him since his amateur days, hopefully Russell Jr. and his team can figure out a solution to this problem .   In 2011 we saw Gary win the
Prospect of the Year
award from many boxing news media outlets, including our own website realcombatmedia.com. Expect good things to come from Gary in 2012, as he will surely continue to impress many fans with his talent, keeping an eye on him.
5. Adrien Broner (22-0, 18 KO's)
Adrien "The Problem" Broner is as cocky as a they come, the 22 year old WBO Super Featherweight Champion out of Cincinnati, Ohio who has no problem showing it off. He has the showmanship and bravado of an elite champion, even though he is just starting to make a name for himself.  Adrien Broner has had over 300 amateur fights, he was the 2002 and 2003 National Silver Gloves Tournament Champion and along with his talent and ability to out box most of his opponents, you can see why he has been so cocky. Recently Broner has won several minor and major titles, such as the WBC Youth Intercontinental Super Featherweight Title, WBC USNBC Lightweight Title, WBO Intercontinental Super Featherweight Title, WBC USNBC Super Featherweight Title and most recently wining his first major title, the WBO Super Featherweight Title on 11/26/2011.   On 02/25/2012, Broner will be making his first title defense against Eloy Perez who has a record of 23-0-2, 7 KO's.   I know that some of the fighters that are mentioned in this article have already established themselves but they still have to prove something to us all.
Gary Russell Jr.
and Adrien Broner have a promising a career  ahead of them, providing that no career ending injuries or downward spiral happens.   Please share your thoughts on the fighters that I have chosen. Part 4 of this series coming soon.
Feel Free to comment and share your opinions on the article on our SOCIAL NETWORK COMMENT SECTION BELOW.
Follow Boxing Writer Frank Rivera on TWITTER @REALCOMBATMEDIA
Join our FACEBOOK for the latest up to date fight news Real Combat Media.COM
Add us to your circle on GOOGLE PLUS: plus.google.com.
JOIN OUR NEW INTEGRATED FACEBOOK FORUMS realcombatmedia.com/forum
COMMENTS
COMMENTS