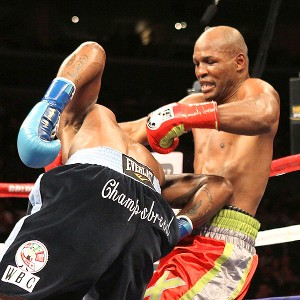 Hopkins vs Dawson II on April 28th 
Photo By: Stephen Dunn
The rematch between Bernard Hopkins the WBC and The Rings Light Heavyweight Champion against Chad Dawson in April.  The first fight ended in a controversial manner, when Hopkins was shoved by Dawson sending Hopkins to the canvas and landing on his shoulder causing an injury. The ruling was that Hopkins was unfit to continue the match do to the injury to his left shoulder, making Dawson the new WBC and Ring Light Heavyweight Champion.
In December, the California State Athletic Commission overturned the ruling and made the Hopkins vs Dawson a no contest. The WBC and The Ring had already made their decision before the CSAC made the correct decision and making it official.
The rematch will be on HBO not on PPV and take place in Atlantic City, New Jersey. Hopefully this time around their will be no controversial end….but then again, this is boxing.
Feel Free to comment and share your opinion on the article on the SOCIAL NETWORK COMMENT SECTION BELOW.
FOLLOW US ON TWITTER @REALCOMBATMEDIA
YOU CAN ALSO FOLLOW REAL COMBAT MEDIA ON FACEBOOK AT Real Combat Media.COM
COMMENTS
COMMENTS