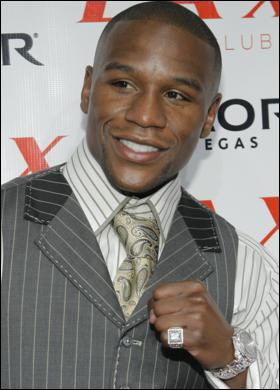 Who Is Fighting Who Now?
By: Frank Rivera 
It appears that there is a new member in the merry-go-round of who is going to fight who this year. Floyd "Money" Mayweather Jr. and Manny "Pac-man" Pacquiao were in"talks" to finally make this long awaited fight happen but as usual nothing has happened so far or ever will as it seems.
Earlier this month the fans and the media were teased viciously by Mayweather Jr. and Pacquiao, when Floyd took to twitter and called out Manny Pacquiao to fight him on May 5th. Pacquiao would lay claim that he was going to put pressure on his promoter, Bob Arum to make this fight happen. A few weeks ago it was reported that Mayweather Jr. phoned Pacquiao to discuss one on one how to make this fight happen.  As you would expect, nothing has materialized and the blame game continues.
Now we have another name that is being thrown into the mix, a little Sazon from  La Isla Del Encanto Miguel Cotto.  The Puerto Rican star has been rumored to be a possible opponent for either Manny Pacquiao on June 9th or Floyd Mayweather Jr. on May 5th.  Miguel Cotto is now a "free agent" and if he chooses to fight Mayweather Jr. on May 5th, it could actually happen since Cotto is not signed with Bob Arum's promotional company, Top Rank. Many feel that Cotto vs Mayweather Jr. should have happened 6 to 7 years ago, before Cotto's loss to Margarito. No one is going to give Cotto a chance to defeat Mayweather Jr. if he was to chose to fight him.
Bob Arum is a crafty and slick promoter that can sweeten the pot for Cotto to face Manny Pacquiao in June. I am assuming that Cotto could be using or will use Mayweather Jr. as a leverage to get as much out of Arum as possible to face Manny Pacquiao. Manny is the only other fighter to give Cotto his second defeat in his career. Cotto has already avenged his first loss back in December 3, 2012 to Antonio Margarito, so a rematch with Pacquiao makes sense from Cotto's prospective.  Either way, Cotto is in a win win situation, he will receive the biggest payday of his career regardless of who he will face.
As for Mayweather Jr. vs Pacquiao happening this year, that is something that I believe no one really knows, not even Manny or Floyd. This on going saga between the two best fighters has been dragged out for the past three years now. The longer this shenanigan continues between these fighters (Arum included) the more likely the fans are going to turn their backs on these two…..well, the majority at least will.
To Floyd Mayweather Jr. and Manny Pacquiao,
Please figure out what you two really want to do already! Stop teasing the boxing fans if there is no real intention to actually make this fight happen. It is time for the talking to stop and start letting your actions speak for you, make this fight happen or keep your mouths closed. As for Miguel Cotto, don't you dare thin about playing this game that these two are playing on.
Feel Free to comment and share your opinion on the article on the SOCIAL NETWORK COMMENT SECTION BELOW.
FOLLOW FRANK RIVERA ON TWITTER @REALCOMBATMEDIA
YOU CAN ALSO FOLLOW REAL COMBAT MEDIA FACEBOOK ON AT Real Combat Media.COM
COMMENTS
COMMENTS