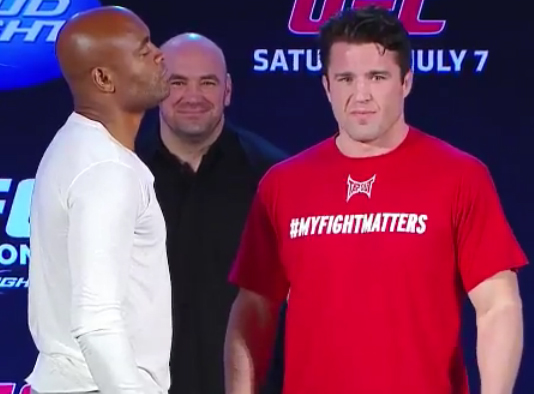 Photo Credit: UFC
UFC PPV SCHEDULE CHANGES ARE CONFIRMED
By: MMA Writer Anthony L. Gonzalez
The UFC announced this morning that the Chael Sonnen vs. Anderson Silva rematch will be rescheduled for July 7th at UFC 148 to Las Vegas MGM Grand Arena. The fight was originally scheduled in Rio, Brazil for June 23rd.
The reason for the schedule change is because there was a United Nations conference is scheduled in Brazil between June 20-22. Many feel that the schedule change was due to security reasons because of death threats made for Chael Sonnen.
UFC 148 is going to be one of the most stacked cards in history. Tito Ortiz will be facing Forrest Griffin for the third time. Dominick Cruz will be facing Uriah Faber in their rubber match. Other matches scheduled are Michael Bisping vs. Tim Boetsch and Cung Le vs. Rich Frankin.
"It makes no difference," said Anderson Silva, who came from behind to submit Sonnen in the fifth round at the UFC 117 bout in August of 2010. "I'm a fighter. A fight is a fight, and once you go up there, everything changes. I'll be fighting and representing Brazil in the same manner I always have."
"It was disappointing, especially the thought of coming to a stadium," said Sonnen. "In Toronto, (Jake) Shields and GSP (Georges St-Pierre) did 55,000 seats and I was hoping to be part of breaking that and getting it done here in Brazil. But look, Las Vegas is the fight capital of the world, this is the biggest fight in the history of combat – boxing, wrestling, fighting, anything that's mano e mano – there's nothing that's been bigger than this and it's gonna take place on July 7th."
UFC 146 changes were also made this week. Junior Dos Santos is scheduled to fight Frank Mir for the UFC Heavyweight Championship, because Alistair Overeem had elevated testosterone levels during a suprise drug test late last month. Alistair meets with the Las Vegas sports commission today for a hearing about his future.
The other change for the event is Cain Velasquez will be fighting Antonio Silva. Roy Nelson will be fighting Gabriel Gonzaga and Mark Hunt will be going up against Stefan Struve. UFC 146 will take place May 26th at the MGM Grand Arena in Las Vegas.
UFC 147 card is not finalized at the moment. As soon as we get an update, we will post it on Real Combat Media.
Join our FACEBOOK for the latest up to date fight news Real Combat Media.COM
Follow Real Combat Media MMA & Anthony L. Gonzalez on TWITTER @REALCOMBATMEDIA
Add us to your circle on GOOGLE PLUS: plus.google.com/Real Combat Media.
JOIN OUR NEW INTEGRATED FACEBOOK FORUMS :realcombatmedia.com/forum
COMMENTS
COMMENTS